Our Mission
Hope Instilled, Inc is a 501(c)(3) non-profit organization that was established on April 19, 2016.
Hope Instilled's Mission:
To help people living with chronic pain take an active role in their recovery process which creates ways to improve the quality of their lives and reduce their sense of suffering. Hope Instilled accomplishes this by being a resource for information about alternative treatment options, exercise, nutrition, and positive lifestyle changes. We also provide Hope Against Pain which is our proprietary action-based, peer-to-peer support designed specifically to address chronic pain. Members are taken along their own path towards a better tomorrow.

View our video: Hope Instilled's Mission
Providing Resources

Information is scattered far and wide when it comes to chronic pain. The accompanying depression and anxiety make it all the more difficult to look for answers and seek help. People wonder what alternative treatments are available for chronic pain. They would like to learn more about the individual treatments. They wonder which treatments they should try. They are looking for a safe and judgment-free place to talk about things their friends and family do not understand. Hope Instilled provides these opportunities and more. We provide useful information and places to engage through our website, YouTube channel, and social media. You will find us on Facebook, Twitter, Instagram, and Pinterest.
Support Group

Hope Against Pain is our proprietary action-based, peer-to-peer support group designed specifically to address chronic pain. Our 10 stage program is designed from the actual 34+ year journey our founder walked from injury to healing. We offer a safe place where members can talk with others living with chronic pain. Loving family support is incredibly beneficial to us all, however, unless they have experienced chronic pain they are not able to really understand.
Learn more here: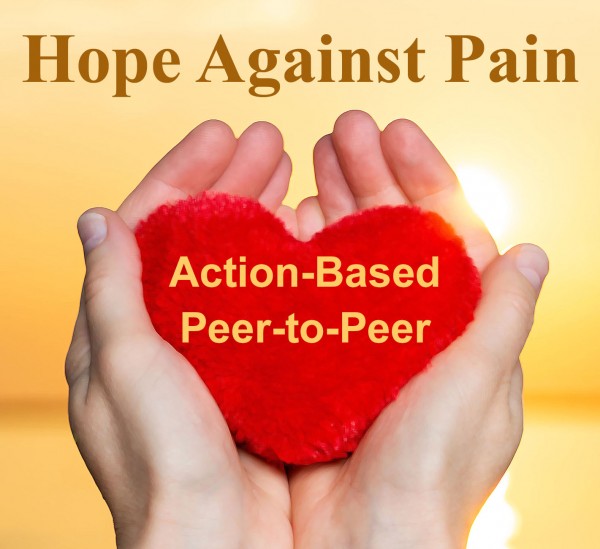 Hope Instilled Press Releases: 
"A quiet epidemic of people living with chronic pain costs the U.S. economy hundreds of billions of dollars annually in lost productivity. Left untallied is the hidden, unseen costs in pain sufferers' lives from depression, isolation, and inactivity. Hope Instilled Inc., a new non-profit organization founded by a chronic pain sufferer of nearly three decades,,,"
"Hope Against Pain uses a stages-based approach to group therapy for people living with chronic pain For sufferers of chronic pain, new "hope" has arrived - literally and figuratively - via a new action-oriented support group, Hope Against Pain."