Holiday Gift Guide for Chronic Pain Sufferers
Posted by J.A., Writer for Hope Instilled on Fri Nov 22nd, 2019 at 7:31 am
By: J.A., Writer for Hope Instilled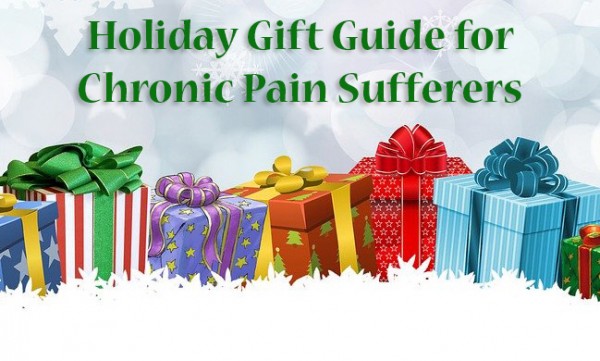 If you are a chronic pain sufferer or know someone who is, this gift guide may help you to pick out just the right gift. Many people who struggle with chronic pain appreciate gifts they can actually use to make those tough pain days a bit easier.
This gift guide has products to help chronic pain sufferers feel some warmth and comfort, along with great products for possibly reducing pain or just providing relaxation. Many of these products I have personally used, and have helped me through some difficult chronic pain days.
Gifts for Sick People
1. Heating Pad
I got a heating pad a couple of years ago, almost the same as the Pure Enrichment PureRelief XL Heating Pad, and I'm not sure how I got by without it for so many years. It is by far the only thing that has really helped me when I have had sometimes very severe cramps that have kept me from doing anything but laying in front of the television. It is not just for cramping feelings though, it can be used for any type of sore muscles or pain in your back, shoulders, abdomen, legs, or arms.
2. Hot/Cold Compress
Everyone should own a hot/cold compress because they are a must-have item for when you get sick, or are injured (calming down a fever or icing a bodily injury). Of course, they also help with sore muscles, chronic pains, cramps, and so on. But, what is great about the Artic Flex Gel Ice Pack – Cold Therapy Ice Bag specifically is its size, and the flexibility that allows you to wrap it around your arm, neck, and other body parts. Additionally, really important to our wellness mission – it is filled with a non-toxic, material. But, it still stays flexible when frozen. Even if you already have a compress, many would agree, it is always a good idea to have at least two hot/cold compresses, if not more. That way you can ice/heat multiple areas at once, or not wait for the one you have to freeze up or heat up again. Plus, this one is quite larger than your typical ice/heat pack.  
3. Pill Organizer
Anyone taking a lot of medications or supplements at various times throughout the day needs a pill organizer. The Zzteck Pill Organizer has large compartments for pills to take all times a day. I personally don't have pills for noon, but I still take roughly 20 supplements a day (morning, evening, and night). Having a pill organizer has definitely made my life easier, and allowed me to better stay on top of taking my supplements. Also, we try to find the most non-toxic products and this organizer is 100% BPA free. 
4. Weighted blanket
If you haven't heard yet, weighted blankets are awesome. For people with sleep issues, anxiety, depression, chronic stress, they help you feel calmer, sleep better, and many people describe them as feeling like they are being hugged. Also, people who feel lonely and want to feel cozy and warm will appreciate this. Learn more about them here. Waowoo Adult Weighted Blanket allows for lots of comforts.
5. Eye Pillow Sleep Mask
The ASUTRA Weighted Silk Eye Pillow Sleep Mask is great for migraine/headache relief, or just helping with relaxation during some meditation time. In fact, Tennis Pro Venus Williams uses it to sleep every night for relaxation purposes. One again, 100% toxic-free. 
6. Essential Oil for Stress
I have essential oil that is specifically for relaxation or stress, and I use it 10x more than any other essential oils I have. Edens Garden Relaxation Essential Oil Synergy Blend
is a high-quality essential oil. I love to put a bit on my wrists with a rollerball when I'm stressed, or add it to my diffuser. The essential oil really does help me with my stress, and my husband always finds it helpful, as well. Make sure you mix it with a carrier oil before applying it directly to your skin. If you are new to essential oils, we have all the basic need-to-know information and more on our site.
7. Rumble Roller
Need a massage, but can't afford expensive massage treatments, at least not regularly? The Rumble Roller is a great item for self-massage therapy. It can help with tight muscles in your back or your sides, and it will help with pain areas creating more flexibility, mobility, and strength. Athletes and fitness enthusiasts will use it for Self-Myofascial Release. The nodules are designed specifically to feel like a massage therapist's thumbs. There are many great videos online to demonstrate how to most effectively use it. It is especially great for back pain.
8. Dry Shampoo
I know a lot of chronic pain sufferers struggle to take showers because they have such horrible chronic fatigue, too much pain, or it just drains too much of their energy. In addition, sometimes there is just no time for a shower. Keeping up with our wellness mission, Organic Dry Shampoo Powder is non-toxic with no harsh chemicals that will damage the hair. It only takes minutes to apply, and you are ready to go!
9. Heated Blanket
I seem to always be colder than everyone else, and I even have allergic reactions to the cold, so my heated blanket is a must-have item for me. Winter in Wisconsin can last up to 6 months. I actually have a thin, queen-size heated blanket for my bed at night, and then I have one in my home office and one in my living room. If you live someplace that gets cold winters, Biddeford Micro Mink and Sherpa Electric Heated Throw
will make it warmer.
10. TENS Unit
The Dual Channel TENS EMS Unit is great for reducing muscle pain, tension, and spasms in the back, arms, legs, knees, shoulders, and other joints. If you are unfamiliar with TENS units and their uses, read more about them here.
11. Bubble Bath
EO Eucalyptus and Arnica Botanical Bubble Bath and EO Botanical French Lavender Bubble Bath are the best bubble baths I have ever used. First, they have all-natural ingredients, nothing synthetic, non-GMO verified, and so on. There are two bottles. One has essential oils such as lavender which is known for relaxation. The other's main ingredients include eucalyptus which is known for helping with allergies, breathing better, and easing joint pain. To gain even more benefits from a bath, many sources recommend a handful of Epsom salts, and a ½ cup of baking soda (which I prefer too). Although this is a package deal with two bottles, and I think both are great to have, you could actually buy them separately.
12. Book on Mindfulness and Meditation
If you haven't already read about the awesome benefits of mindfulness and meditation, we have content on meditation for chronic pain. When I was going through some of the most painful moments of my life and was deep in depression, I knew I had to do something about my stress. My stress levels were sky high, and meditating was one of the most beneficial things for actually calming me down enough to focus on my business (at least on the days I was capable of working). It didn't really improve my pain but helped me to mentally and physically calm myself.
The book Wherever You Go, There You Are: Mindfulness Meditation in Everyday Life was the perfect guide to not only understanding mindfulness and meditation but telling me how to do it. I read this book cover-to-cover, but the way the chapters are set up, you can easily skip around. Just the way it is written has such a calming factor. I used to always obsess about the past or future, and mindfulness meditation helped me to live in the present.
13. Slipper Socks
Not just for women they are for men too! My husband has mentioned he never sees warm, fuzzy socks for men, but apparently, you just need to know where to look. I have socks just like these Christmas Slipper Socks, and I absolutely love them for our painful Wisconsin winters…wait, why am I still here? Anyway, they are super fluffy. I actually wear them over my thinner socks. You might already own slippers, I do too, but these are a lot warmer and better when relaxing on the couch. Plus, they are easier to wash, and even throw in a bag and bring with you somewhere.
There are also, slipper socks specifically for men.