Over 50 Activities to do While Stuck at Home
Posted by J.A., Writer for Hope Instilled on Thu Apr 23rd, 2020 at 11:45 am
By: J.A., Writer for Hope Instilled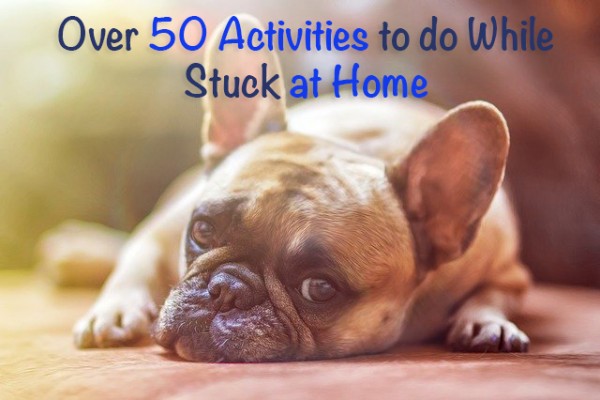 Check out these indoor activities for adults if you are stuck at home due to pain, bad weather, a pandemic, or something else.
If you are stuck at home and frustrated, these are great ideas for activities to do at home that you may haven't thought of yet. Being bored is not great for your happiness, which is not great for your health. Hopefully, these suggestions help you to find a bit more joy in your life! 
Arts & Crafts

Take up some form of painting
Drawing
Photography (could take an online class)
Sewing
Knitting
Crochet
Create Sculptures, build things out of wood or other materials
Design cards to send to people
Design your own clothes
Find crafts on Pinterest to try out
Try graphic design, or play with photo editing programs like PicMonkey or Photoshop
Design your own jewelry
Start a shop on Etsy



Cooking & Baking

Trying new recipes - visit Pinterest 
Creating recipe books
Listening to podcasts


Creating your own videos for YouTube


Writing & Journaling

Blogging
Writing letters to people
Write a book
Create poems or song lyrics
Journaling of dreams, goals, past accomplishments, trips, and so on…



Organizing pictures

Create online albums
Print some pictures
Create collages



Organizing home

Get rid of clutter: things you don't love, haven't used in a year, or won't use again.
Organize items by keeping similar items together, and making it easy to see and quickly find what you are looking for.



Spring cleaning
It doesn't have to be Spring to clean those areas of your home that have been neglected for a long time. We all have them!


Video Games
Buy an old video game system and video games to play with it.


Gardening
Plant flowers, vegetables/fruits, or you can even try growing some food items from the leftover pieces of certain fruits or vegetables. 
Games
Play board games, card games, or online games with friends

Try to invent your own game!
Watch Movies
Subscribe to Netflix, Disney+, Hulu, Amazon Prime, or watch your own movies
Discover new music on Spotify.

Have a song or dance party!
Read
Buy some books on Amazon, try the library, or subscribe to a magazine
Online classes
Take an online class to learn something new – there is a class for everything.
Do puzzles

It doesn't have to be a table puzzle. Try 3D puzzles, puzzle books, or puzzle games.
You can even go online and design your own puzzle from a picture you have taken yourself. 
Color
Coloring isn't for kids anymore, you can find coloring books for adults, along with Mandala's and other free templates online.
Try new exercises
You can find yoga videos on YouTube, and many other exercises varying in difficulty.
Learn dancing
Learn ballroom or another form of dancing from videos or online classes.
Plan a trip
Even if you are not going to go on a trip anytime soon, it can be exciting to just plan out all the different activities you would want to do.
Video chat
Call friends or family you haven't talked to for a while.
Change up your space
Rearrange your furniture, repaint a room, or redesign a space in your home
Organize your computer
Sort through folders on your computer, unsubscribe from email lists, rework your social media profiles, and so on…
Watch silly videos on YouTube
Learn how to play an instrument
Evaluate how you can improve your life
This might be: a new hobby, learning something new, self-improvements, changing up routines, adopting new wellness changes, or other lifestyle improvements. 
Have a picnic
Grill out
Toss a Frisbee around
Lay on a blanket and read a book
Go for a walk
Sit outside in the grass with your eyes closed and listen to the sounds of nature. It is a great way to reduce stress and feel more relaxed.